Choosing a managed web hosting provider is no easy task. It is even more complicated due to the amount of multiple hosting platforms available and the multitude of services they all offer. I can understand how choosing one could get very overwhelming for the layman. If you ask web professionals, we all have different opinions on the matter. I have tried it all from the do-it-yourself option (not recommended at all), super cheap shared hosting, VPS to managed web hosting. All of these services have ranged in price from "FREE", $3.99 per month up to $150 per month. They have also come with different degrees of disappointment and success. Therefore, I felt compelled to write an article that would make sense out of all this and make it easier to choose the best service.
What's Web Hosting Anyway and Why Do You Need It?
Web hosting is the service that provides rentable space for your website to exist on the world wide web. If you want to have a website available on the internet, you need web hosting. Think of web hosting like renting an apartment in a building. Your apartment is your hosting share and the building is the server. You rent hosting space on a specific server for your website to reside in. Most websites don't need many resources to run, but some resources are way more important than others. I have sifted through all of the many choices and given you a powerful tool to make this decision much easier for you. In conclusion, The more you understand what kind of resources you need, the easier it is going to be for you to make an informed decision about your web hosting services.
What Is The Most Common Conversation About Web Hosting?
Most people choose web hosting services based on price. The truth is that price can only be determined once you truly understand what you are paying for or what you are not paying for. I believe the price is somewhat irrelevant in today's web hosting arena. Competition is so brutal and cost of hardware has gone down so much that the price of good hosting today is more than a bargain. The most important thing you need to guarantee the success of your website is picking the web hosting provider that best aligns with your web hosting strategy.
What's A Web Hosting Strategy?
A web hosting strategy focuses primarily on choosing the right combination of resources and services that your site needs to run at its best. For instance, if you needed to make frequent content updates on your website, You would want to make sure your site was built using a content management system like WordPress. This way, you could quickly make updates without the need to hire a web developer. You also would not need to know HTML, Javascript or CSS. This would be a key component of your web hosting strategy.
The strategy we use at our agency and one that has helped us deploy our clients' projects with great success
Managed Web Hosting is an additional but essential service that web hosting providers offer. This is even more important if you are not a technical person or a web developer. It refers to a plethora of crucial services that are taken care of on your behalf without your direct involvement. Think of it as having a team of skillful technicians working for you 24/7 to ensure that your website is working at all times. All of this without having to pay for their salaries. The cost of managed web hosting services from our preferred vendor is no more than two months of your cable bill per year.
2. Pick The Right Content Management System (CMS):
I recommend using WordPress as it is the most widely used CMS in the world. It powers close to 42% of all websites on the internet today. I have used many platforms and techniques from static HTML websites to dynamic websites built on JSP, PHP, Joomla, Drupal, Flash, and Flex. WordPress is the only CMS we use in our agency because of its great community support. It has over 42 thousand plugins in its database. You can extend your website project in almost any direction, lots of FREE, paid online training, decent security and it is constantly being improved. In addition to this, it provides the best out-of-the-box SEO. It makes your website more likely to be found and indexed by search engines.
3. Identify Your Media Needs:
The bounce rate of users on websites according to the Nielsen Norman Group is somewhere between 10-20 seconds. This is one very important reason why you may need a CDN. A content delivery network allows you to serve your media content to your users in a clean and fast manner. For example, if you want to show lots of video on your site, you need to store it on a separate video service like Vimeo.  This way your visitors can stream your video content without slowing down your website. Although it is totally possible to host your media content on your web hosting server, it is not recommended at all. Media takes a huge toll on your website. If your website provides a poor experience for its users, they will never come back.
| | | | | |
| --- | --- | --- | --- | --- |
| Media | CDN | YouTube | Vimeo | Libsyn |
| Video | X | X | X | |
| Audio | X | X | X | X |
| Images | X | | | |
| Price | $19.95 | FREE | $7.00 | $20.00 |
3. Outsource Your E-Mail Service Provider:
It used to be a common practice to choose web hosting services based on the email plans web hosting companies provided. This has totally changed today. If you need E-mail service, you need to choose an E-Mail service provider such as Gmail for Business. Do not host or manage your email on your web hosting server. The top reasons are security and spam management. The E-Mail services offered on web hosting plans are not reliable, get bogged down by spam and get blacklisted often. This means viruses and malware can come in through your emails and infect your web server. If your server is blacklisted, your outbound emails will land in people's junk mail. E-mail service is an essential part of communicating with your users. For this reason, it should be run by a company that specializes in Email service.
4. Set Up SSL:
Providing encryption on your website is a must today. This is the guarantee that tells your users that they are in good hands while navigating on your website. Most servers and hosting plans allow you to install and manage your own SSL certificates but this is no easy task. You need to buy, install and manage your SSL certificates. You do need a professional to do this unless you choose managed web hosting. The reason is that managed web hosting providers offer SSL certificates in their plans where they do all the dirty work for you. SSL is no longer a nice-to-have but more like the only way for your users to trust you while on your website. Websites encrypted by SSL certificates are about to become the standard for websites that want a chance to appear in search engines like Google and Bing. Google has announced that they will start flagging websites as "Not Secured" as of July 2018.
5. Think of Page Speed:
Website speed and page load times are crucial for any website. According to data reported by StatCounter, 52% of all web traffic today comes from mobile devices. For this reason, your website needs to be ready to load fast on any mobile device running on any network. In other words, optimize your website for low resource devices more than for fast robust desktops. This is true because most people are accessing websites via their mobile phones than on their desktops. The number one determinant factor in speed is the web hosting provider you choose. Finally, the more servers, redundancy, and optimal hardware your web hosting service provider use, the faster your website will be available.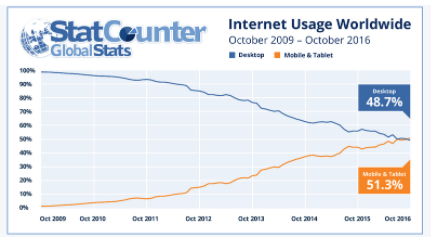 6. Get Reliable Customer Support:
Most companies claim to provide some form of customer support, but they fail to disclose how efficient it really is. I have experienced all sorts of customer support services from the most frustrating to the most responsive. It makes no sense when a company offers multiple customer support channels but they are equally unavailable on all of them. I have had to wait for hours before getting through to a tier 1 or tier 2 technician. My default is to choose the one company that provides the most responsive support. Something we take very seriously at our agency besides responsiveness is how our preferred managed web hosting provider will take care of our customers down the line.
7. Easy Migration:
This is perhaps one of the key factors why I choose one Web Hosting provider over everyone else. It can become a nightmare for a non-technical person to migrate an existing WordPress installation from one hosting company to another. It is also expensive when a technician has to do it for you. This is not the case with my favorite web hosting service because they provide an easy-to-use plugin. This takes a very tedious process and makes it very simple and painless. For instance, it only takes me between 15 to 30 minutes to do a full website transfer from one hosting company to another.
8. Seamless Scalability:
This is perhaps the second most important thing to consider when choosing a managed web hosting solution for your WordPress site. Traffic spikes can knock a website offline in a matter of minutes. Having a platform that can sustain traffic surges on demand is super important because it allows your website to be available at all times. Although these spikes may cost you a bit more money depending on your web hosting provider, not having to worry about it makes all the difference.
9. Real-time Security:
It is the most important consideration to ensure the longevity of your website. This does not mean that to secure your website you need to become a security expert, but your managed web hosting provider does. The right managed web hosting solution provides automatic software updates, plugin monitoring, software and hardware patches. It is very important they take proactive security measures to prevent attacks on your website in real time. WordPress websites are vulnerable to a denial of service attacks, cross-site scripting, SQL injections and session hijackings.This is the point of highest vulnerability for your website and its visitors. Finally, having a company constantly monitoring and taking action to circumvent attacks is life changing.
Managed Web Hosting Providers
| | | | |
| --- | --- | --- | --- |
| Provider | Value | Support | Price |
|  WP Engine | 5 | 5 | $29.00 |
| GoDaddy | 3 | 4 | $ 7.99 |
| Rackspace | 4 | 3 | $ 128.00 |
The only Managed Web Hosting Service Provider We Recommend:
WP Engine is a pioneer in managed WordPress hosting. As a result, they deliver some of the best WordPress hosting on the market today. This means they take care of the most cumbersome tasks WordPress sites require. Their security-features are top-tier, support is top-notch, and the performance is amazing. This hosting platform by no means is a low price option but it is not the most expensive either. If you are looking for discounted hosting, keep in mind that you will get what you pay for. If you are serious about your website then do not choose discount hosting. I have worked with many web hosting providers and the best service hands down is provided by WP Engine.
Conclusion:
I did not want to write another web hosting comparison blog post. This is intended to give to be a window into one of my consulting sessions. Think of you as being a fly on our wall and understand our process for recommending managed web hosting through WP Engine. If you are still not convinced then check out top 12 reasons for choosing WP Engine.
Our Top 12 Reasons For Choosing WP-Engine:
Managed Web Hosting for WordPress Websites.
It offers CDN under the same roof.
Worry-free SSL certificates.
Hyperfast page loads.
24/7 Customer Support.
Automatic scalability.
Regular security scans, to keep it secure, online and free of SQL injections, session hijacking, hidden spam links, cross-site scripting and many more.
Painless website transfers from external web hosting providers.
It has easily deployable staging environments for testing without compromising your live production website.
Optimized for WordPress (PHP7 Ready).
Automatic WP Updates.
Reliable and functional backups.
If you find this article valuable, please help us spread the word on social media.
This article contains affiliate links. If you buy a product or service through one of these links, we will earn a small commission at no extra cost to you. If you choose WP-Engine and click on any of the links on this page you will get 20% OFF on your first payment. Thank you so much for your support 🙂